Rebecca Giddens writes about her whitewater slalom racing adventures leading up to the 2004 Olympic Games...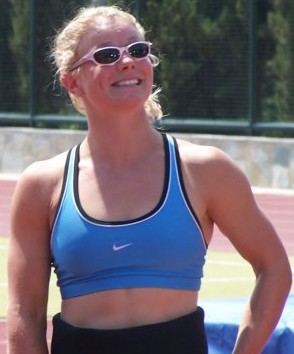 July 15, 2004
Hey everyone,
Hope this finds you all in good health. Mass emailingÖ.. this is a first for me. Iíd love to contact each of you individually but living on the road in foreign countries with sixteen paddlers that are all training/racing can get a little crazy. So I apologize but know that I miss all of my family and friends dearly.
When all is said and done, Iíll have been on the road for two and a half months. Eric and I headed over to Europe on June 17. We left a couple of days earlier then the rest of the team for a little fun side trip. Our good Czech friends (Votej and Veronica) tied the knot in Prague. Eric was on the junior slalom team at the same time as Votej and I was on the junior team with veronica, so it was very special to have been able to attend. However not a good start to a training camp (the Czechs know how to have a good time.)
Onwards to Athens. At three in the morning Eric and I left the wedding to drive back to the Munich airport so we could catch our flight to Athens for a two week training camp. Other then being a little sleepy for the first few days, the camp went well. The course is artificial; the water is pumped up from the sea and then held in a reservoir where it is recirculated
through the course in the shape of a figure eight. Itís crazy, we actually paddle over and under the river! Because itís salt water, artificial and pushy (difficult), the course takes some getting use to. But oh man, itís awesome, definitely on my top three list of favorite slalom courses.
In Greece, we were able to see a few sites thanks to Mr. Energy. Eric is so use to being the athlete on a trip and now heís jumped into the fulltime coaching position (for those that may not already know, Eric was asked to be one of the three coaches for the Olympics). So that means not the same level of physical activity that heís use to. We had a few half
days off during our training and Eric made sure that we took full advantage of them. Twice we headed to Aegina, a beautiful island about ten miles off the coast of Athens. The islandís about fifteen miles long by 4 miles wide with a number of small towns/villages on it. In order to experience Aegina properly we decided that renting scooters was a necessity. What a blast it was; cruising town to town, stopping to swim, seeing some ancient ruins and finishing up with a nice seafood dinner on the water all in time to be back ďhomeĒ for a good nights sleep before the next workout. What I may have lost from lack of rest was made up by feeling mentally fresh on the course in Athens.
On July 3, Eric headed back to the United States to work on his dissertation and I headed back to Prague for a World Cup. Itís always good to be back in Prague, it one of the most beautiful (along with that comes touristy) towns in the world. The course in Prague is the exact opposite of the course in Athens. The water is much smaller, which means I can't rely on it to help take me to the next gate very quickly. Instead Iíve got to paddle my booty off to get anywhere. Itís quite similar to the course in South Bend, Indiana. Same color too, brown. But brown and very dirty! So
dirty that the night before the Finals, I spent on the ďporcelain godĒ being sick. Unfortunately it didnít stop until twenty-four hours later. It was a first, and hopefully last, for me to race with a bug (coincidently, Eric experienced the same thing in 1995 at a World Cup in Prague, nasty water). I did debate even racing. I even sent the car to the course on without me
and stayed in the room with my new best friend. Then an hour before I was to leave the start gate for my run, I decided to take the trolley to the course and see if Iíd miraculously recover. Well that didnít happen. Thirty minutes before my run I arrived at the course. Usually I arrive at least two hours before my run to warm up, watch video, study the course and
get ready. This time I didnít even look at the course (however I did watch the demonstration runs the day before so I did know where to go). I took fifteen minutes to get dressed (usually a thirty second ordeal) and fifteen minutes to try and warm up in my boat all the while still trying to figure out if this was a good idea. Finally I decided I might as well go and made a plan to just try and nail the moves and not to even try and paddle hard because that wasnít an option. I truly expected a disastrous run but to my surprise, it was fine. While my stroke rate was no where near at its potential, I did every move technically well which put me in fourth place. However making the Finals (top ten) was a catch 22. I was so happy to have paddled well but couldnít imagine doing it again in three hours. I spent the time in-between runs dead to the world on the physio table (except for the frequent dashes to the bathroom). Again, fifteen minutes before my run,
I made it to my boat to try and warm up. It was very embarrassing, many families/people were watching the girls warm up and there I was throwing up overboard. Iím sure they thought Ďpoor thing must be nervousí or Ďthese slalom athletes have serious eating disordersí. Another unexpected surprise on my second run, it also went fine besides a couple of touches.
My final result was fourth place. Usually fourth place stinks however this was my proudest fourth place.
Immediately after the race, we packed up and drove to Augsburg, Germany (the longest four hours of my life) were the next World Cup will take place. Iíll write again and give you all an update on how that goes. Hopefully it wonít drag out like this, sorry for that.
A million thanks to all of you for your support. Knowing that youíre all out there helps keep me going each day. I don't have every one's address so feel free to forward this on to those who may be interested.
Rebecca
~ posted with Rebecca's permission 08/04/04
July 26, 2004
Hello again,
On to the next World Cup: Augsburg Germany. By Monday morning after the Prague World Cup, I was much perkier. I went right into Monday morning's workout of half-length courses feeling fatigued from a lack of food but good
considering my previous state. Last year the 2003 World Championships took place in Augsburg so it was a comfortable course to come back to. Our team has spent months training on the "Eis Kanal" (that's the local name for the course) in preparation for numerous international races. You'd imagine that after months of training and racing on a course that one would have it wired. Untrue, it takes years! At least for me it does! The course was built for the 1972 Munich Olympic Games. Other then shortening the course (moving the start downstream from the original start) it hasn't had any drastic changes done to it. So you can imagine that the technology for artificial courses has improved significantly over the years. While the Eis Kanal is most definitely World Class material, it does take time to learn all of its secrets. Many people refer to the course as being similar to a bathtub. Strange, I know but somewhat true. It has a very smooth bottom and the edges of the river are solid concrete so there is nowhere for the water to disperse when it hits the sides or bottom. Imagine yourself as a kid (or an adult if you're like me and still love baths) swirling the water around and how it bounces off the sides swooshing from one side to the next causing soft harmless boils, now you're on the "Eis Kanal". It's
inconsistent in a very consistent sort of way. Those that have spent years training there learn exactly what strokes to take or what edges to put down. Those of us that haven't grown up training/racing on this course learn to react to the ever-changing features.

Slalom is a popular sport in Germany. The town of Augsburg likes to make a big deal out of the race; live music, live television, food stands, merchandise vendors, huge crowds of people and they stretch the race out into three days of racing rather than the traditional two-day format. It's great for the spectators but it can be a little stressful on the athletes.
On the Qualifier day (Friday), I ended up in 12th place. On my first run, I missed gate 6 and had a long loop to get back to it. The really frustrating part was that the gate I missed was the same gate/move as the one I looped during the Worlds last year. However, this time I missed the gate to the opposite side as the year before by overcompensating for my previous years mistake. After first runs I was sitting in about 26th place (they only take the top 30 to go into the semifinals) and didn't have a clue how to do gate 6 for my next runs. Where's Eric when I need him. After watching multiple people do the move in person, watching video, talking with different athletes and then to Silvan (our national team coach), I finally come up with a plan, but I was still not very confident. When I don't understand how to do a move and have to put all of my trust in other people's advice, I get really nervous. And nervous is exactly what I felt for my second run. Luckily the move is at the beginning of the course and I could finally breath when I made the gate with flying colors on my second run.
On to the semifinals and finals. I ended up placing 5th overall (maybe I should race sick more often, In Prague I was 4th with the flu. After the race a Czech friend (Pavel Yanda) asked how my run went. I said 'alright, I ended up 5th'. It's not normal for him to give advise but he replied ' it's not about your place, first or last, it's the feeling you had. In your
heart specifically'. What he said really had an impression on me because the feeling I had at the finish was excellent. I knew it wasn't a winning run but I felt I had done some really good things technically and I was so moved by my teammates. They ran me down from top to bottom cheering me on with everything they had. Our team is so supportive of each other and it really does help to go out there and race for them as well as myself. I replied to Pavel, 'Then my run was Awesome!'

After the race Scotty, Brett, (our Olympic kayaks), Silvan and I went to Solkan, Slovenia for a week of recovery before the Olympics while the rest of the team headed to Bourg, France for the last World Cup. Our coach, Silvan is from Slovenia so we are staying at his home for the week. It's been very mentally relaxing here. In between training sessions we've gone hiking up in the Alps (hiking has always been a natural healing remedy to lower my stress). The mountains are gorgeous; the river we're training on (the Soca) is crystal clear, the people of the area and very welcoming. This area is an unfound gem. Not a bad place to hang for a few days. Tomorrow we'll fly back to Athens. It's hard to believe how fast the summer is flying by, three more weeks until The Games begin! I'll write again to let you all know how everything is going. Thanks so much for the wonderful emails, I love hearing how you all are doing. It truly makes my day, week,
year, life!

Rebecca

~ posted with Rebecca's permission 08/04/04
Olympic Team Trials Interview with Rebecca Giddens
Rebecca Giddens paddling toward an Olympic medal her whole life ~ Photos