Jennifer Hearn to Attend NYC Awards Dinner
by Monica Shellenberger
- USA CANOE/KAYAK
LAKE PLACID, N.Y. - USA Canoe/Kayak Olympic coach and former slalom athlete Jennifer Hearn (Bethesda, Md.) has accepted an invitation to attend the Women's Sports Foundation (WSF) Annual Salute to Women in Sports Awards Dinner on Monday October 15.
Every year the women's sports and fitness community pays tribute to champion female athletes at the Women's Sports Foundation Annual Salute to Women in Sports Awards Dinner.
The highlight of the evening is the awards ceremony and announcement of the Sportswomen of the Year. The event also features the induction of new members into the International Women's Sports Hall of Fame and the presentations of the Billie Jean King Contribution Award and the Wilma Rudolph Courage Award. This annual Foundation black-tie benefit is held at the world-famous Waldorf=Astoria Hotel in New York City.
During her visit to New York City, Hearn will join WSF athletes to visit rescue workers, victims and families of those involved in the horrific display of terrorism that occurred on September 11, 2001
"I will be honored to meet and visit with some of our nation's true heroes. I can only hope that our kind words and prayers may help these fine people in some small way," says Hearn.
Hearn has been involved with WSF for several years. A big supporter of the Foundation, she has been involved with National Girls and Women in Sports Day and is a veteran Awards dinner attendee in 1993 and 1994.
Away from the spotlight, Hearn involves herself with all aspects of coaching paddling and helping children with paddling. Just last weekend she and her husband, two-time World Champion David, held a camp for juniors, cadet paddlers on the North Branch of the Potomac. They are also actively involved with the Ronald McDonald House and Children's Hospital by visiting with the children.
"The children were very determined to see their treatment through and to continue living life to the fullest," says Hearn.
As a mother of two-year-old Jesse, it's clear that Hearn is focused on the paddling youth. Although she doesn't get to paddle as frequently these days, she spends her time teaching Jesse how to swim in hopes that he too will learn "to enjoy and preserve the outdoors."
As a coach since 1995, Hearn has also enjoyed the roles of athlete, club director, fundraiser, media liaison, and volunteer for Whitewater Slalom Canoe & Kayak racing since 1987. Jennifer was a U.S. Olympic Festival Champion in 1993 and 1995, and a Women's Sports Foundation Grant Recipient in 1990. She was a 2000 Olympic coach for her husband David and the rest of the Whitewater Team.
"It's an honor to have such an outstanding female athlete attending this event," said WSF Executive Director Donna Lopiano. "Jennifer has been such a great contributor to women's paddlesports for years and we're proud to have her in attendance with the hundred other talented female athletes."
For more information about the Women's Sports Foundation please visit http://www.womenssportsfoundation.org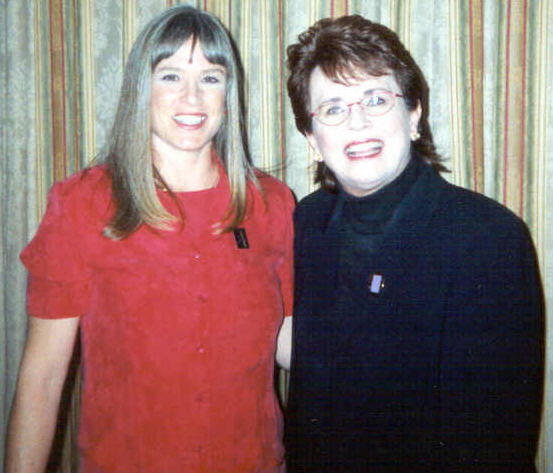 Jennifer Hearn and Billie Jean King - Women's Sports Foundation 2001
photo by Siri Lindley