Women's Sports Foundation award's dinner
by Jennifer Hearn
This is a follow up story to the Women's Sports Foundation award's dinner and my recent visit to New York City.
My visit to New York City was a huge honor for me. The Women's Sports Foundation award's dinner is always exciting, but the most significant part this time was going to ground zero and serving our true heroes, the rescue workers, fire fighters, police officers, and EMTs at Nino's Restaurant. Nino's has been open 24 hours a day since Sept. 11 and serves over 7,000 people a day. It is the only place indoors that the rescue workers can go to sit down, eat, and get away from what is obviously an overwhelming ordeal. At Nino's, I was joined by five champion athletes: Cheryl Haworth, weight lifting, Willye White, track & field, Tracy Caulkins-Stockwell, swimming; Mary Riddell, Paralympic skiing, Leslee Olson, snowboarding, and Liz Masakayan, beach volleyball. We served an ever-changing assortment of warm dishes of stuffed shells, turkey and gravy, twice baked potatoes, meatballs, calamari and rice, roast beef. This was the quickest 2 1/2 hours I have ever spent. I know that if I lived in NYC I would be volunteering my time like this a couple times a week. The workers come into the restaurant in waves as they are arrive via shuttles to take these much-needed breaks. It was both a moving experience and very busy.
Afterwards, the restaurant owner arranged for us to make a quick visit to ground zero with the Port Authority. Next to ground zero, respite is limited to makeshift rest areas made from tarps and tents serving water and snacks. Our view was similar to the one shown on television. A wooden platform has been built for all the grieving family and friends. Hard hats on, we were about 50 feet away from what remains of the World Trade Center Towers. In the distance I could see an iron cross that the rescue workers had erected from debris at the site. The air was heavy and stung with the still burning remains and dust of everything destroyed. I felt like I was intruding on sacred ground. Words alone cannot describe how this makes me feel. The Sergeant who drove us into the site told us that each time he leaves here a part of him stays behind. I caught a glimpse of the Statue of Liberty as he said this, just as we were passing a wall covered with fresh flowers and notes from a firefighter's recent memorial service.
My feelings of grief have tried to overshadow the goodness of all that I did see and experience. People are friendly in NYC, they say please and thank you, and hold doors open. The streets were crowded and thriving with $2 flag shirts being hawked on nearly every street corner. Tourists abound, and I thought I could catch a Broadway show, but struck out four times; three shows thought I must be out of my mind to think I could get in that day, and one was closed until next month. I went to the movies instead and struck up an interesting conversation with two women sitting near me, and a young man fresh out of Army basic training. These are things that didn't happen to me last time I was in town. NYC has changed. There is police and security presence everywhere. My photo ID was checked and backpack searched each time I entered the fancy Waldorf Astoria hotel. Tourists have to wait until after 6 p.m. to go up into the Empire State Building, and NBC, CBS, and ESPN aren't doing their news shows from behind the glassed windows along the street anymore.
Even the Women's Sports Foundation award's dinner was different. Over eighty athletes were announced and we climbed and rolled up the stage onto the five-tiered platform, much like a chorus getting ready to perform. Black and white photographs of girls and women playing sports surrounded the athletes on stage. Finally, three more female heroes joined Billie Jean King, WSF founder, at center stage: a New York City firefighter, police officer, and emergency medical technician. We opened the dinner by singing America the Beautiful, with one minor modification: "and crown thy good, with Sisterhood, from sea to shining sea."
Between the dinner proceeds and the sports fantasy auction, the Women's Sports Foundation raised one million dollars, of which all goes back into supporting girls and women in sports. Please see http://www.womenssportsfoundation.org for more information. I heartily encourage you all to become WSF members and apply for the various training and traveling grants.
Yours in whitewater sport,
Jennifer Hearn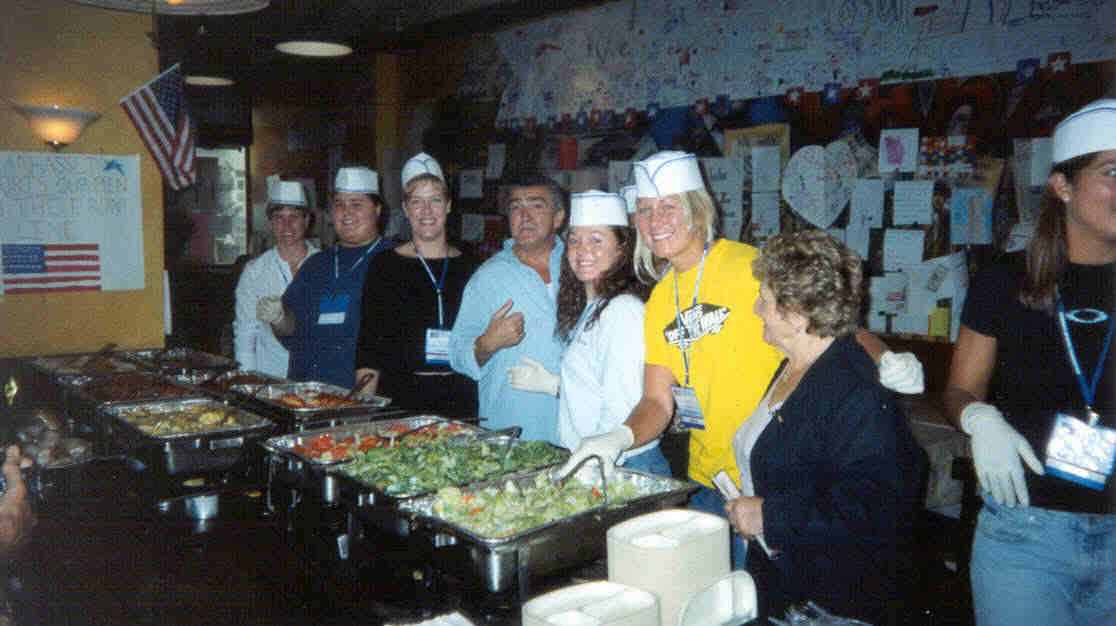 Women's Sports Foundation athletes serving at Nino's including the owner and his mother.