International Canoe Slalom Training Camp
World Champion and Olympian Davey Hearn coaches and hosts an international whitewater canoe slalom training camp for an autumn weekend to be determined. 2004 Photos
Our goal is to bring together canoe paddlers from across the country and provide elite level coaching in a cooperative yet competitive environment. We hope to stimulate excitement around C-boating and attract more participants to the canoe classes. Focus of the training camp is training group cooperation in the pursuit of whitewater slalom excellence including autumn slalom preparation, C-boating technique, canoe camaraderie, and whitewater play.
C1 and C2 athletes who have participated in the 2004 US Team Trials and/or the National Championships are encouraged to attend. Whitewater training will bust out on the Potomac River in Maryland, the Feeder Canal gate training course in Bethesda, and the Dickerson Whitewater Course in upper Montgomery County.

energy bars will be available to all training camp participants, coaches, families, and volunteers.
Other meals, housing and transportation are the sole responsibility of the participants. Junior athletes and their families are encouraged to coordinate with others attending the canoe camp for supervision and training logistics.
All training camp participants must be members in good standing with both USA Canoe Kayak and the BCE.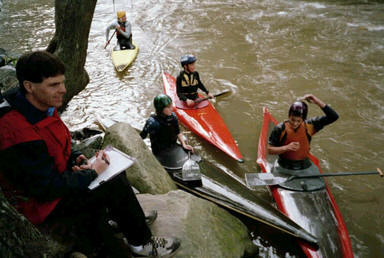 David Hearn, Benn Fraker, Chad Lewis, Julian Potvin-Bernal, Marshall Anderson
Link to Canadian Cadet athlete Julian Potvin-Bernal's 2003 training camp report
Read about the 2002 Canoe Training Camp